Cabletv is a new television service representing the most significant development in television technology since the advent of color television. it can provide movie theater quality pictures and sound, a wider screen, better color rendition, multiple video programming or a single program of high definition television (HDTV), and other new services currently being developed. The nationwide deployment of digital television is a complex and multifaceted enterprise. A successful deployment requires the development by content providers of compelling digital programming; the delivery of digital signals to consumers by broadcast television stations, as well as cable and satellite television systems; and the widespread purchase and adoption by consumers of digital television equipment.
Here are some of the cabletv, we are currently supporting for subcription, DSTV, GOTV and Starstime Read Terms
Payteller bill payment is a secure electronic service that allows customers to pay bills without having to write checks and mail them. Bill payment usually, is tied to a checking account from which funds are withdrawn electronically for payment of one-time or recurring bills. Bill payment and services offered here, in a more secure way.
Payteller bill payment, also known as electronic bill payment or automatic bill payment, offers several advantages. Among them:
Value is assign or remits immediately, so no need to worry about whether payments arrived on time.
payteller is environmentally friendly, eliminating paper waste.
We offer most billing, free of charge to our esteem customers. Other we charge small amount of monthly fee or a fee per transaction.
We offer customers opportunity to schedule automatic payments
Payteller is a fast and reliable payment platform to pay all your bills in just a click. You can easily pay for your electricity bills, cableTv subscription e.g (GOTV, DSTV, MyTV, etc) Educational bills, Government bills, Transport, Airtime and Data.
We make your bills payment easy, fast and convenience with encouraging packages for our reliable customers.
We Cover The Following CableTv's
The following Electricity Distribution Company are Covererd
Abuja Electricity Distribution Plc (AEDC)
Eko Electricity Distribution Plc (EKEDC)
Ibadan Electricity Distribution Plc (IBEDC)
Ikeja Electricity Distribution Company (IKEDC)
Jos Electricity Distribution Plc (JEDC)
PortHarcourt Electricity Distribution Plc (PHEDC)
Kano Electricity Distribution Plc ( KEDC)
Payteller is Fast, Easy and Safe

Online bill payment is faster and easier than the check-and-stamp method. Basically, it eliminates the procrastination factor. You can set up monthly payments through your payteller and never pay a late fee again or suffer disconnection. If you pay through bill through payteller is going to save you time, frustration and stamps. Even if you wait until the last minute to pay online, you save precious days since our transactions typically process within seconds.

Debit or Credit Card Payments Allowed

Paying your bills with your debit or credit card has a number of advantages. For one, think of all the travel miles you could rack up. You'll also be able to spot billing errors more easily if you're just looking at your statement every month.

Saves Green

When you move your bill payment operations to payteller, you'll be doing your part to preserve the Earth's resources -- and some cash. One of the biggest advantages of paying your bills through us, of course, is getting rid of all that paper. We will ask if you'd rather get statements and reminders e-mailed to you. And then there's the money-saving part. Obviously, we are currently give 3% money back to all our customer and every month, alot of customer win big from, stay tune for the next big promo

Easy Consolidation

Payteller bill payment lets you declutter your finances (and your counter) in one fell swoop. If you're not a particularly organized -- or technologically gifted -- person, paying bills online might sound a little daunting. You might feel like it's easier to receive the paper bill or visit an agent, But really, nothing could be simpler than online bill payment. Sure, that is why payteller is here, you'll never have to worry again about late fees, disconnection.

Easy Organization

When you're organizationally challenged and pay bills the old-fashioned way, it can be easy to lose focus on your finances. Once the cable company has been paid for the month, the bill usually gets shredded, filed or lost in a heap of paper. If the amount suddenly changes or there are any unusual charges to your account, you might not realize it for months. But if you pay online, you can see all your records and immediately know if something is amiss. And if you use a third-party bill-payment service, everything is all there in one place for instant viewing. It's like hiring a professional organizer -- for free!
Refer & Earn
Refer your friends and earn
You Refer Friends
Share your referral link with friends. And earn 10% of their transaction with us
Your Friends Register
Your friends Register with using your referral link.
Earn You
You get and see your commission as it grow and option to withdraw it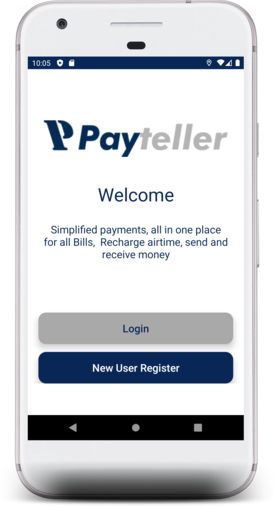 Download Our Payteller
Mobile App Now
Download our app for the fastest, most convenient way to send Recharge.
Payteller is a financial services system, unlocking the power of money for all people, a Simplified payments, all in one place for all Bills, Instant Loans without collateral, shopping directly from abroad, Recharge airtime on any network, pay bills for all your favourite services and transfer money, all at the lowest possible cost with Payteller.
Recharge
Bill Payment
Booking Online
and much more.....